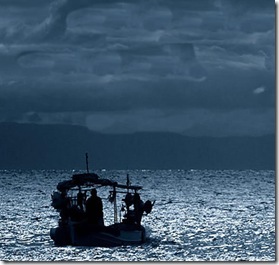 my mind is blank
no thoughts
no memories
everything is just dark!
watching the comedy on tv
fails to evoke any laughter;
while the beauty of mother nature
doesnt leave me in awe!
once calm mind,
now struggles to remain sane
with the storm now
creating havoc inside me!
frustration takes over,
crossing the line of sanity
clouds of anger
blinds my eyes!
making no sense
of whats happening
chaos and confusion
strike at will!
trapped within this tempest
fighting to be free of this prison
i try to break the walls of insecurity
and mend my ship to sail again!
at times, i slip and fall under the waves;
at times, i struggle to breathe;
at times, i consider putting an end
to this all using the coward's way out!
taken for granted and
taken for a ride
when i stopped running in this rat race,
i was just pushed to the sidelines;
when darkness called,
i sold my soul to satan
swallowed my pride and
became a mute spectator
to this drama of life
riding on the wings of hope,
i go into this long battle
knowing its my life that's at stake
knowing the winds of change,
that is around the corner,
waiting to blow me back oncourse
once the storm has passed!