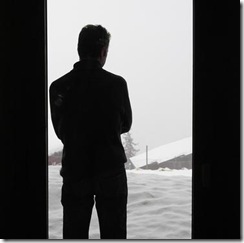 i had been thinking,
thinking about a lot of things
from the little boy in the playground
to the granny in the park!
from the things i had done years ago
to what i did yesterday
been thinking what i am doing now
to what i will be doing tomorrow!
a lot of choices;
a lot of options;
life is about choices, everyone says
and choosing the options wisely
from the road less travelled
to the most crowded streets
i had made the choices
and chosen the options my way!
now, tired of all this
and the mask slowly wearing off
i am being forced to choose
i have to make one final choice.
standing at the door,
do i reapply the makeup
and continue to wear this mask (forever)
or do i give in to life's desires?
—————————————————-
image courtesy: flickr.
GD Star Rating
loading...
Standing at the door!

,
Other Poems you might be interested in
(Thursday August 7th, 2008)

praveen it's good to give in to your desire.. the more you hide it, the more it will eat you!! give in to it and you can overcome it… good lines…

GD Star Rating
loading...

(Friday August 8th, 2008)

Raji,

thank you

its a lil complicated to explain that in few lines

GD Star Rating
loading...

(Tuesday August 26th, 2008)

hello Raji Krishnan ,,did you write all of this poetry? as I can not find a name at end of them here."beautiful" is mild to how I love them. May I plz use some on my sites where I use poetry, pic, music for expression,I will add your name and link to site on each I use.
may God bless you..ameen
~peace and friendship~
Sandra

GD Star Rating
loading...