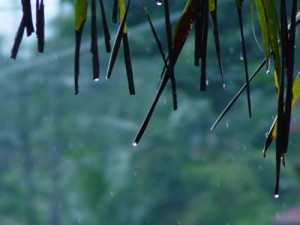 dancing around in this wet abyss
with puddles around my feet
as the rain falls from the clouds above
i am in a world as beautiful as life;
as i spin blissfully
jumping around in joy
a little skip here and a little hop there
nothing can disturb this tranquil peace;
when nothing in life seem to go right,
never quite sure what tomorrow might bring,
knowing everything is for a reason,
the only thing that I can do is be my self;
as my fingers reach out to the falling raindrops,
i smile as i watch the rain come down,
softly sprinkling on my skin
alluring my senses into spring awaking;
as i surrender to the beauty of rain,
swimming in a sea of serenity,
a blanket of warmth surrounds me
as I fade into the darkness
letting my mind set itself free;
 - – - – - – - – - – - – - – - – - – - – - – - – - – - – - – - – - – - – - -
a personal reflection of life.
encouraged by a sudden downpour 3 days ago 
inspired by songs by Chris Cornell, Audioslave, Linkin Park
 - – - – - – - – - – - – - – - – - – - – - – - – - – - – - – - – - – - – - -
Between the raindrops

,
(Tuesday May 25th, 2010)

Definitely my fave poem. Really inspiring… And just– I don't know… I love it! I usually hate rain.. but you made it sound so beautiful.. =]

(Sunday December 5th, 2010)

The writer makes it sound so special!!!
REALLY like it…
uhu

(Tuesday January 31st, 2012)

Beautifully written.. Mind if I use it?

(Wednesday February 1st, 2012)

[...] Poem Courtesy: Praveen, Between the Rainrops [...]

(Thursday February 2nd, 2012)

Thanks Archana. As long you give the relevant credit with the website url, you can.